Oklahoma Cemeteries Website
Click here to break out of frames
This information is available for free. If you paid money for a
subscription to get to this site, demand a refund.
---
Bertha Lorean (Girdner) & L J Ketcher
Tombstone photo
Bunch Cemetery
Bunch, Adair County, Oklahoma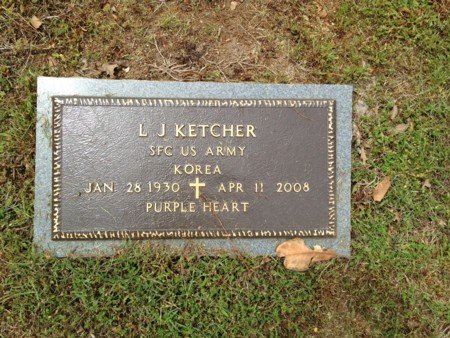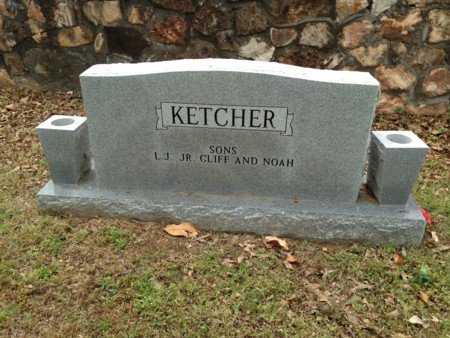 Submitted by: Annajo Cantrell-Limore
L.J. Ketcher
January 28, 1930 - April 11, 2008
U.S. Veteran Funeral services for L.J. Ketcher, age 78, of Stilwell, will be held 2:00 p.m. Tuesday, April 15, 2008, at Hart Memorial Chapel with Bro. James Wheeler and Bro. Max Ford officiating. Interment will follow at Bunch Cemetery under the direction of Hart Funeral Home.
L.J. Ketcher was born on January 28, 1930, in Stilwell, Oklahoma to Noah Ketcher and Tempie (Dice) Ketcher. He departed this life on April 11, 2008, at his home in Stilwell, Oklahoma at the age of 78 years, 2 months and 14 days.
L.J. was in the National Guard before being mobilized to the Korean War with the 45th Infantry Division of the Army, "The Fighting Thunderbirds" from 1950-1952. He was a recipient of the Purple Heart. On November 28, 1953 in Tahlequah, Oklahoma, he was married to Bertha Girdner and this union was blessed with three sons, L.J. Jr., Clifford and Noah. He enjoyed fishing, hunting, rolling around with all his grandchildren and watching his favorite television programs, "The Price is Right" and "The Young and the Restless".
His parents, Noah and Tempie Ketcher, preceded him in death as well as one brother, Watie Ketcher.
He leaves behind a loving family which includes his wife of 54 years, Bertha Ketcher, of the home; three sons, L. J. Ketcher and wife, Sheila, of Westville, Cliff Ketcher and wife, Elizabeth, Noah Ketcher and wife, Janice, all of Stilwell; his brothers and sisters, Stanley Hummingbird and wife, Virginia, of Stilwell, Monte Shipley and wife, Tina, of Sand Springs, OK, Nick Hummingbird and wife, Sue, of Stilwell, Stan Ketcher and wife, Joyce, of Ponca City, OK, Don Ketcher and wife, Bet, of Oklahoma City, OK and Wynemma Bean and husband, Alfred, of St. Louis, MO; sister-in-law, Shirley Ketcher, of Broken Arrow, OK; eight grandchildren, Noah Ketcher, Jr., Jacob Ketcher, Tim Ketcher, Patrick Ketcher, Philip Ketcher, Ashleigh Auffet and husband, Zach, Melissa Ketcher, Josh Ketcher and wife, Robyn; two great grandchildren, Adian Auffet and Emily Ketcher. Many relatives, friends and loved ones also survive him.
Thank You For Your Service!
|Bunch Cemetery Page| |Adair County Cemetery Page| |Home|
---
This page was updated: Monday, 11-Mar-2019 15:03:07 CDT
This site may be freely linked, but not duplicated in any way without consent.
All rights reserved! Commercial use of material within this site is prohibited!
© 2000-2020 Oklahoma Cemeteries

The information on this site is provided free for the purpose of researching your genealogy. This material may be freely used by non-commercial entities, for your own research, as long as this message remains on all copied material. The information contained in this site may not be copied to any other site without written "snail-mail" permission. If you wish to have a copy of a donor's material, you must have their permission. All information found on these pages is under copyright of Oklahoma Cemeteries. This is to protect any and all information donated. The original submitter or source of the information will retain their copyright. Unless otherwise stated, any donated material is given to Oklahoma Cemeteries to make it available online. This material will always be available at no cost, it will always remain free to the researcher.