Oklahoma Cemeteries Website
Click here to break out of frames
This information is available for free. If you paid money for a
subscription to get to this site, demand a refund.
---
Mary Lois (McLemore) & John Croley Mays
Tombstone photo
Bunch Cemetery
Bunch, Adair County, Oklahoma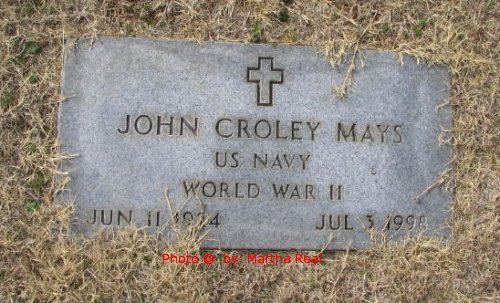 Submitted by: Martha Real
Obit for Mary
Nov 29,1924 - May 2, 2007
Mary Lois (McLemore) Mays was born November 29, 1924 in Adair County, Oklahoma to Chester and Fannie McLemore.
She passed away in her home on May 2, 2007 at the age of 82.
Lois married Bill Mays on June 21, 1947 in Columbus, Kansas.
She was a World War II Veteran serving as a member of the Woman's Army Auxiliary Corps.
She was preceded in death by both of her parents, her beloved husband, Bill Mays, one sister, Sarah Elizabeth McLemore and seven brothers, Cicero, Dan, Tom, Haskell, French, Osie and Martin McLemore.
She leaves to mourn two children, Pamela Kay Ware and husband, Travis, of Wichita, KS and Johnny B. Mays, of Stilwell; three grandchildren, two great grandchildren, two brothers, Wallace McLemore and wife, Loretta, of Hulbert, OK, Scott McLemore and wife Magali, of Denver, CO; two sisters, Irene Luce, of Stilwell, Mary Elizabeth Birmingham and husband, Larry, of Tahlequah, OK and numberous family, friends and loved ones.
Services were held Saturday, May 5, 2007 at Sequoyah Baptist Church with Bro. James Wheeler officiating.

Interment followed at Bunch Cemetery under the direction of Hart Funeral Home.
Thank You For Your Service!
|Bunch Cemetery Page| |Adair County Cemetery Page| |Home|
---
This page was updated: Monday, 11-Mar-2019 15:02:44 CDT
This site may be freely linked, but not duplicated in any way without consent.
All rights reserved! Commercial use of material within this site is prohibited!
© 2000-2020 Oklahoma Cemeteries

The information on this site is provided free for the purpose of researching your genealogy. This material may be freely used by non-commercial entities, for your own research, as long as this message remains on all copied material. The information contained in this site may not be copied to any other site without written "snail-mail" permission. If you wish to have a copy of a donor's material, you must have their permission. All information found on these pages is under copyright of Oklahoma Cemeteries. This is to protect any and all information donated. The original submitter or source of the information will retain their copyright. Unless otherwise stated, any donated material is given to Oklahoma Cemeteries to make it available online. This material will always be available at no cost, it will always remain free to the researcher.