Oklahoma Cemeteries Website
Click here to break out of frames
This information is available for free. If you paid money for a
subscription to get to this site, demand a refund.
---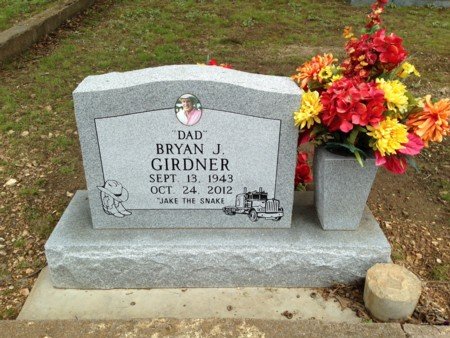 Submitted by: Annajo Cantrell-Limore
Cemetery Photo
Adair County, Oklahoma
Bryan Jennings Girdner
Bunch Cemetery
---
Bryan Jennings Girdner son of Alton Ben and Lillian Gail (Stevenson) Girdner was born on Friday the 13th in September of 1943 at Bunch, Oklahoma and died on October 24, 2012 in Stilwell, Oklahoma at the age of 69 years,1 month and 11 days. He grew up in Bunch, but spent his adult life in Tahlequah.
Bryan lived life according to his terms, trying his hand at different careers throughout his many years, ranging from truck driver and Lake Patrolman to business entrepreneur. The joy in his life was the love he had for his friends, family, and grandchildren. Bryan's memory lives on in the hearts of those who cared for him. We are sure those family members who preceded him in death await him with open arms, love and kindness. He will be missed dearly and thought of often.
Bryan is survived by a very loving family that includes his five Children: Bryan "Tuffy" Girdner and wife Brandy, Mike Girdner and wife Jodi all of Stilwell, OK, Dr. Lisa Cole and husband Glenn of Tulsa, OK, Randy Girdner and wife Tracey of Shanghai, China, Brad Girdner of Welling, OK., his six Grandchildren: Caden Girdner, Jernie Girdner, Blade Girdner, Harper Girdner, Abby Girdner and Treil Girdner. Three Sisters: Mary Parks and husband Kenneth of Tahlequah, OK, Alene Dial of Welling, OK, Joyce McKee of Childress, TX.
He was preceded in death by one sister, Sue, and three brothers, Frank, Ben and Bill Girdner.
Funeral services were held at 10 am on Monday, October 29, 2012 at Roberts/Reed-Culver Chapel with Bro. Ronnie Ford officiating. Interment followed at Bunch Cemetery.
|Bunch Cemetery Page| |Adair County Cemetery Page| |Home|
---
This site may be freely linked, but not duplicated in any way without consent.
© 2006-2012 by Martha Real
The copyright (s) on this page must appear on all copied and/or printed material.
All rights reserved! Commercial use of material within this site is prohibited!