Oklahoma Cemeteries Website
Click here to break out of frames
This information is available for free. If you paid money for a
subscription to get to this site, demand a refund.
---
Cemetery Photo
Adair County, Oklahoma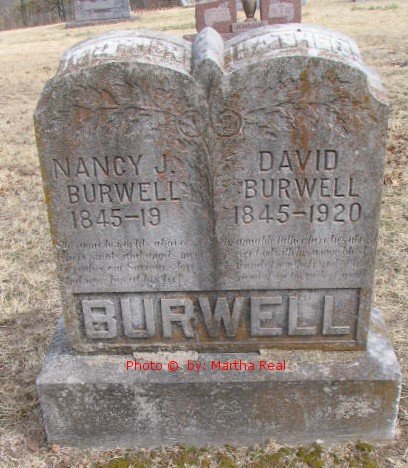 Submitted by: Martha Real
David & Nancy J. Burwell
Bunch Cemetery
---
David BURWELL
© The Standard-Sentinel
Thursday, November 25, 1920
Submitted by: Wanda Elliott
Last Friday, David BURWELL, aged 75 years, died at his home near Bunch.
He leaves an aged companion and many other relatives to mourn his death.
He was buried at the Bunch Cemetery Saturday afternoon, after an impressive funeral service had been conducted at the grave by Rev. O.S. SNELL.
|Bunch Cemetery Page| |Adair County Cemetery Page| |Home|
---
This site may be freely linked, but not duplicated in any way without consent.
© 2006 by Martha Real
The copyright (s) on this page must appear on all copied and/or printed material.
All rights reserved! Commercial use of material within this site is prohibited!