Oklahoma Cemeteries Website
Click here to break out of frames
This information is available for free. If you paid money for a
subscription to get to this site, demand a refund.
---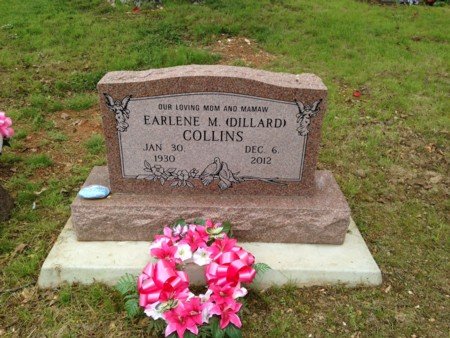 Submitted by: Annajo Cantrell-Limore
Earlene Maudie (Dillard) Collins was born to James Walter Dillard and Izora Elizabeth (Cochran) Dillard, on January 30, 1930, in Perkins, Oklahoma. Earlene went home to be with the Lord on December 6, 2012, at the age of 82 years, 10 months and 6 days.
Earlene was married to Jim J. Smith on January 19, 1946, and to this union was born 6 children: James, Linda, Carol, Alice, Susan and Janice.
Earlene was a very caring and loving mother and grandmother. She loved being around her grandchildren, and we loved her in return.

Earlene did some work as a cook and waitress at some of the local restaurants, but her best job was being Mamaw to all of us. She really enjoyed yard sales, fishing, and doing yard work. She loved doing things outside and was extremely skilled at cooking; especially chicken and dressing.
Earlene was a very loving and nurturing mother and grandmother. She has had such a deep and lasting impact on our lives and I'm sure that even years from now we will still notice new areas that she influenced. She has been such an integrated and ingrained part of our lives that I know we'll think of something new to miss about her everyday. We have so many good memories of her to hang on to and to help carry us through this time of grief. We can hope and pray that with each passing day we will carry her memory with a little more joy and a little less sorrow than the day before.
Earlene was preceded in death by her parents, James and Izora Dillard; daughter, Alice Ruth smith; sisters, Wilma DeCuir and Laura Flynn; brothers, Ellis Dillard, John "Dubs" Dillard, Harold Dillard, Lawson Dillard, and Buford Dillard; husband, Jim Smith, Fay Baird, and Roy Collins; also several nieces, nephews and sisters-in-law.

Earlene is survived by a loving family that includes her son, James Smith and wife, Betty, of Tahlequah, OK; daughters, Linda Killer, of Stilwell, OK, Carol Vann and husband, Kenny Vann, of Park Hill, OK, Susan Hinkle and husband, Bud Hinkle, and Janice Girdner, all of Stilwell, OK; brother, Bill Dillard, of Muskogee, OK; sister, Imogene Harvey and husband, Lewis, of Dewey, OK; 9 grandchildren, John Killer, Jarrod Killer, Kristie LaRose and J.J. Girdner, all of Stilwell, OK, Aaron Smith, of Broken Arrow, OK, Matthew smith, of Tucson, AZ, Karin Jones, of Tahlequah, OK, Alesia Robinson, of Westville, OK, and Sarah Sanders, of Sallisaw, OK; 13 great grandchildren and one great-great grandchild, and many other relatives and friends.
Funeral services will be held 2:00 p.m. Monday, December 10, 2012, at Hart Memorial Chapel with Bro. Neal Dillard and Bro. John Killer officiating. Interment will follow at Bunch Cemetery under the direction of Hart Funeral Home of Stilwell.
|Bunch Cemetery Page| |Adair County Cemetery Page| |Home|
---
This site may be freely linked, but not duplicatedin any way without consent.
© 2006 - 2014 by Martha Real
The copyright (s) on this page must appear on all copied and/or printed material.
All rights reserved! Commercial use of material within this site is prohibited!