Oklahoma Cemeteries Website
Click here to break out of frames
This information is available for free. If you paid money for a
subscription to get to this site, demand a refund.
---
Blackwood Cemetery
Adair County, Oklahoma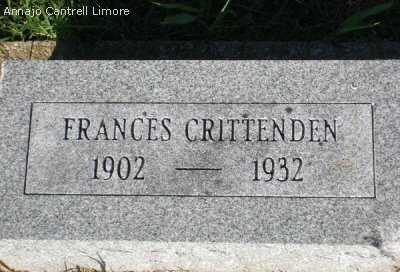 © Annajo Cantrell Limore
Frances Crittenden
---
Frances Crittenden

© Adair County Democrat, Stilwell, Oklahoma
Thursday, April 21, 1932
Submitted by: Annajo Cantrell Limore
Frances Crittenden was born March 14, 1902 and passed away at her home April 17, 1932 at the age of 30 years, 1 month, leaving to mourn her loss the husband, Webster Crittenden, and three children, Malinda, Sadie and Nathan. One son, Bruce, died several years ago. Her mother, Mrs. Jane Walkingstick, two sisters and a brother also survive her.

Mrs. Crittenden was a member of the Baptist church having joined when a girl and was loved and repected by her many friends.

The funeral was held Tuesday with Rev. J. B. Acorn and F. S. Howard officiating, and under the direction of the Roberts funeral home.

Interment was in the Blackwood cemetery.
---
|Adair County Cemetery Page| |Home|
This page was updated: Friday, 21-Aug-2015 09:54:44 CDT
This site may be freely linked, but not duplicated
in any way without consent.
© 2015 for the Oklahoma Cemeteries Website
The copyright(s) on this page must appear on all copied and/or printed material.
All rights reserved! Commercial use of material within this site is prohibited!
GOD Bless America!