Oklahoma Cemeteries Website
Click here to break out of frames
This information is available for free. If you paid money for a
subscription to get to this site, demand a refund.
---
© by: Ron Burnett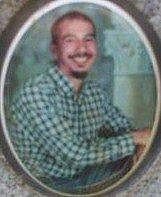 © by: Ron Burnett
Robert Lee Grimmett
© The Stilwell Democrat Journal
June 24, 2009
Submitted by: Martha Real
Robert Lee Grimmett
June 25, 1977-June 13, 2009
Robert Lee Grimmett, son of George Grimmett and Viola Gene (Washington) Grimmett, was born on June 25, 1977 in Tahlequah, Oklahoma.
He passed from this life on June 13, 2009 at the age of 31 years, 11 months and 18 days.
Robert was preceded in death by his father; George Grimmett, his grandparents; Bear and Eliza Grimmett, George and Kelly Washington, his aunt; Flora Birdtail and his uncle; Rufus Grimmett.

Robert is survived by his companion; Becky Asbill of Stilwell, OK., his mother; Viola Gene Grimmett of Stilwell, his daughter; Robyn Jene Grimmett of Stilwell, his brothers; Rufus Grimmett Jr., and wife Diane of Stilwell, Kenneth Blackfox and wife Debbie of Locust Grove, OK., George Grimmett and wife Charlotte of Wauhillau, OK., Brian Grimmett and wife Willene of Locust Grove, Jeremy Dewayne Grimmett of Stilwell, his sisters; Becky Bearpaw of Stilwell Carolyn Blackfox of Tahlequah, May Jane (Sissy) Gourd of Stiwell, his aunts, uncles, several cousins, other relatives and many friends.

Funeral services were held on Wednesday, June 17, 2009 in the Roberts/Reed-Culver Chapel with Bro. Mike Glass officiating.
Reading by Brandon Wofford.
Interment followed at the Beaver #2 (South Bunch) Cemetery under the direction of Roberts/Reed-Culver Funeral Home.

|Adair County Cemetery Page| |Home|

---




This page was updated: Sunday, 14-Jul-2019 10:32:55 CDT
This site may be freely linked, but not duplicated in any way without consent.
All rights reserved! Commercial use of material within this site is prohibited!
© 2000-2020 Oklahoma Cemeteries

The information on this site is provided free for the purpose of researching your genealogy. This material may be freely used by non-commercial entities, for your own research, as long as this message remains on all copied material. The information contained in this site may not be copied to any other site without written "snail-mail" permission. If you wish to have a copy of a donor's material, you must have their permission. All information found on these pages is under copyright of Oklahoma Cemeteries. This is to protect any and all information donated. The original submitter or source of the information will retain their copyright. Unless otherwise stated, any donated material is given to Oklahoma Cemeteries to make it available online. This material will always be available at no cost, it will always remain free to the researcher.