Oklahoma Cemeteries Website
Click here to break out of frames
This information is available for free. If you paid money for a
subscription to get to this site, demand a refund.
---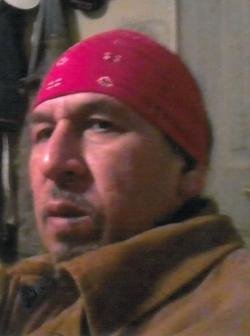 ---
Guy Grimmett, son of Turner and Dorothy (Mannon) Grimmett, was born on September 19, 1961 in Tahlequah, Oklahoma and departed this life on Tuesday, September 24, 2013 in Stilwell, Oklahoma at the age of 52 years and 5 days.
Guy was a good provider for his family. His favorite things were watching sports, doing bead work, caring for his dogs and visiting with his family and friends. Most of all, He was a loving husband to Patsy and a best friend and dad to his kids. He will be missed by many.

He was preceded in death by his brothers: Harold G Grimmett, J.D. Grimmett and his wife Norma, uncles: Rufus Grimmett, Sr., George Grimmett, Robert Grimmett, aunts: Lizzie Grimmett, Anne Faye Spears and Kelly Marie Mannon, paternal grandparents: Bear and Eliza (Vann) Grimmett and maternal grandparents: Troy and Myra (Wildcat) Mannon.

Surviving Guy is his wife: Patsy of the home, children: Guy Grimmett, Jr. and wife Amy, Jess Kylan Grimmett, Marvin Shell, Pancie Guylynn Grimmett, all of Stilwell, Julia Combs of Tahlequah, OK, uncles: Roy Grimmett, French Wildcat and Little Beaver Wildcat, parents: Turner and Dorothy Grimmett of Stilwell, aunts: Linda and husband Teehee Washington, Roberta Bunch and Louise and husband Clayton Wolford, grandchildren: Jacob, Audrey and Colby Grimmett, Dannica, Aaliah and Leighton Shell, Abbygail and Xander Combs.

Funeral services were held at 2 pm on Tuesday, October 1, 2013 at Roberts/Reed-Culver Chapel with Rev. John Flute officiating. Interment followed at Hickory Vann Cemetery, Bunch, OK.

|Adair County Cemetery Page| |Home|

---




This page was updated: Sunday, 14-Jul-2019 10:32:55 CDT
This site may be freely linked, but not duplicated in any way without consent.
All rights reserved! Commercial use of material within this site is prohibited!
© 2000-2020 Oklahoma Cemeteries

The information on this site is provided free for the purpose of researching your genealogy. This material may be freely used by non-commercial entities, for your own research, as long as this message remains on all copied material. The information contained in this site may not be copied to any other site without written "snail-mail" permission. If you wish to have a copy of a donor's material, you must have their permission. All information found on these pages is under copyright of Oklahoma Cemeteries. This is to protect any and all information donated. The original submitter or source of the information will retain their copyright. Unless otherwise stated, any donated material is given to Oklahoma Cemeteries to make it available online. This material will always be available at no cost, it will always remain free to the researcher.