Oklahoma Cemeteries Website
Click here to break out of frames
This information is available for free. If you paid money for a
subscription to get to this site, demand a refund.
---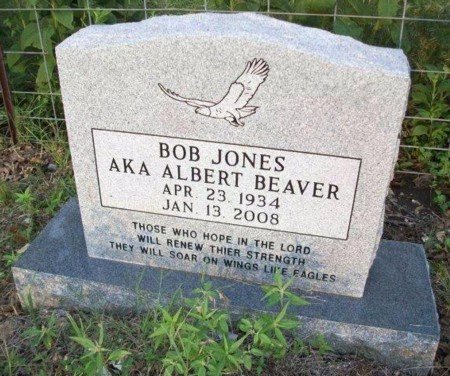 © by: Ron Burnett
Bob Jones
© The Stilwell Democrat Journal
January 23, 2008
Submitted by: Martha Real
Bob Jones
April 23, 1934-January 13, 2008
Bob Jones son of John Beaver and Nancy Scraper Beaver was born April 23, 1934 in Bunch, OK., and departed this life on January 13, 2008 in Stilwell, OK., at the age of 73 years 8 months and 20 days.
He is preceded in death by his parents, 4 brothers; Eugene, Hubert, Robert Beaver, and Felix Chuculate, 4 sisters, Elsie Vann, Martha Pettit, Sarah Hardbarger, and Mary Jane Lawhead.

Bob is survived by a loving family that includes his wife Dollie Mae Jones of the home in Stilwell, OK., 2 children; Jesse Jones of Stilwell, OK., Roseanna Jones and Heath Deason of Stilwell, OK., 1 granddaughter; Chevell Deason of Stilwell, OK., 2 brothers Sam and Alex Beaver of Stilwell, OK., 4 sisters; Mollie Star, Elouise Christie of Stilwell, OK, Imogene Christie of Marble City, OK., and Nellie Sue Pettit of Sallisaw, OK. Many other family members and friends also survive him.

Funeral services were held Friday, January 18, 2008 in the Roberts/Reed-Culver Funeral Chapel with Bro. Gary Wayne Bunch officiating.
Interment followed in the Beaver Cemetery, under the direction of Roberts/Reed-Culver Funeral Home.

|Adair County Cemetery Page| |Home|

---




This page was updated: Sunday, 14-Jul-2019 10:32:46 CDT
This site may be freely linked, but not duplicated in any way without consent.
All rights reserved! Commercial use of material within this site is prohibited!
© 2000-2020 Oklahoma Cemeteries

The information on this site is provided free for the purpose of researching your genealogy. This material may be freely used by non-commercial entities, for your own research, as long as this message remains on all copied material. The information contained in this site may not be copied to any other site without written "snail-mail" permission. If you wish to have a copy of a donor's material, you must have their permission. All information found on these pages is under copyright of Oklahoma Cemeteries. This is to protect any and all information donated. The original submitter or source of the information will retain their copyright. Unless otherwise stated, any donated material is given to Oklahoma Cemeteries to make it available online. This material will always be available at no cost, it will always remain free to the researcher.